Welcome to the Champions Online Wiki
A Wiki Guide to Champions Online:Free For All and the Champions Universe that anyone can edit.
We are currently maintaining 5,019 articles, since March of 2008
---
What's New?
4th Of July Costume Contest
By LaughingTrendy Mon 30 Jun 2014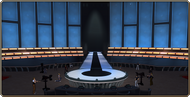 Champions! It's time to show your patriotic colors! The super group Patriot Act is getting to host its second annual July 4th Costume Contest! With multiple themes to choose from, now is your opportunity to show off pride in your country. The Patriot Act is giving out boatloads of prizes during the event, with a few exclusive rewards that the Champions Online team are adding to the mix. This player-run contest will be held on July 4th, 2014 10:30PM server time at the Millennium City Power House Theater.
Grand Prize for Best Costume
Grand Prize winner will receive 21,776G (217 Keys / 76G for Silvers), plus the winner will be granted a custom forum title
Best United States Themed Hero/Heroine
1st Place: Choice of Iris Irregular Action Figure or 500G (5 keys for silvers) + Custom Forum Title. 2nd Place: Either 500G (5 keys for silvers) or Iris Irregular Action Figure Depending on what winner chose. + Custom Forum Title 3rd Place: 2 Keys + Custom Forum Title.
Best Patriotic Hero/Heroine of any Country (other than U.S.A.)
1st Place: Choice of Iris Irregular Action Figure or 500G (5 keys for silvers) + Custom Forum Title. 2nd Place: Either 500G (5 keys for silvers) or Iris Irregular Action Figure Depending on what winner chose. + Custom Forum Title. 3rd Place: 2 Keys + Custom Forum Title.
American Icon (Examples: Bald Eagle, Statue of Liberty, Uncle Sam, ect..)
1st Place: Choice of Iris Irregular Action Figure or 500G (5 keys for silvers) + Custom Forum Title. 2nd Place: Either 500G (5 keys for silvers) or Iris Irregular Action Figure Depending on what winner chose. + Custom Forum Title. 3rd Place: 2 Keys + Custom Forum Title.
GM Navi's Personal Category for Best Costume that Represents a Branch of the United States Military (Any Era.)
1st Place: "Therakiel's Sword!" 2nd Place: Will Receive: Choice of Iris Irregular Action Figure or 500G (5 keys for silver) 3rd Place: Will Receive: Iris Irregular Action figure or 500G (5 keys for silver) depending on Second Places choice.

For more information on the event, | check out their website for full details. The winners
What's New?
New Heroic Starter Pack and AoE Boosts!
By DwightMC Thu 08 May 2014 12:06:28 PM PDT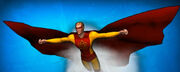 Need that extra boost to jump-start your crime fighting career? We're excited to introduce the Heroic Starter Pack, a new pack that will help those Champions who are new to Millennium city.
The Heroic Starter Pack features a costume piece, travel power, XP boosts and more. All of the items included in the pack are valued at 1500 Zen, but the pack is available now on the C-Store for 750 Zen a 50% saving!
Here's all that is included in the Heroic Pack:
-Heroic Mask costume piece 
-Cape Glide travel power 
-4x XP Boost Plus 
-4x Healing Device Plus 
-4x 4x Triumphant Recovery

Along with the introduction of the starter pack, we've also introduced "Plus" versions of Energy Surge, Healing Device, Heroic Comeback, and XP Boost. The Plus versions will now have an area effect when trigged and will replace existing consumables in the C-Store, best of all they will be sold at the same prices.
Here are all the details on the new "Plus" versions:
•C-Store consumables ( Heroic Might, Energy Surge Plus, Resource Boost, Healing Device Plus, Heroic Comeback Plus, Recovery, Star Refill, Team Ultra Star Refill, Boost Enhancer, XP Boost Plus) are now sold as stacks of single-charge items rather than as nonstacking multi-charge items. In most cases, the stack limit is 999.
•XP Boost Plus will continuously provide a 20% boost to you and to anyone who enters the boost's range, until they leave the boost's range. This does not override or stack with another player's own XP Boost or XP Boost Plus.
Let us know what you think of the new C-Store items on the official Champions Online forums.
What's New?
Vehicle 2.0 Live By CaptainSmirk Wed 19 Mar 2014 11:25:49 AM PDT

We're happy to announce that Vehicles 2.0 is now live! Players will now be able to upgrade their favorite Mark 1 vehicles into new and improved versions. Get ready to deal even more destruction with your vehicles.

What will you need to upgrade your Mark 1 to a Mark 2 vehicle? You'll need your Mark 1 vehicle and a Tune-up Kit which is available in the C-Store. Upgrading your existing mark 1 will not alter the appearance of the vehicle, but it will get higher stats and will add more mod slots. Most mark 2 editions will come with 7 or 8 slots, 8 if you have the 10% "Drifter Store Bonus."

In addition, this is your chance to get four new Mark 2 vehicles, including a brand-new Hover Tank chassis. The Mammoth and Mastodon hover tanks are angular, deadly hunters of the sky, and are available in the C-Store; the Smilodon is based off the same chassis, and is available in the Drifter Salvage store. Fans of Heartstring can also pick up the Broadhead grav bike in the Drifter Salvage store.

We've also added the new Vehicle Showcase room, where you'll be able to see available vehicle designs, in Renaissance Center where the Q-Store used to be. The vehicle showroom is the one stop shop for all Champions to browse Mark 2 vehicles, upgrade your Mark 1 vehicle, and to check out the brand new stunning Mark 2's available in the C-Store.

The new Mark 2 vehicles pack a punch and also feature incredible new designs. The new Hover Tanks and Grav Ghariots will come with 4 weapons and 3 mods (split between defense and support). Grav Bikes, Hawkwings, Exocets , and VOTLs will come equipped with 3 weapons and 4 mods (split between defense and support).

Since we've added the Mark 2 vehicles, we've knocked down the prices of most C-Store vehicles, down to 1200 ZEN. (The Stealth Hawkwing and Wilson VTOL are 1400 ZEN.) And if you've recently won an Arrowhead or Adder from the Heartstring lockbox, your vehicle should automatically be converted to Mark 2.

In addition to introducing upgraded vehicles, we are also tuning vehicles and various weapon systems. Vehicles have been given a lower in-combat speed, to help avoid overshooting your target, and we've altered how boost works. There were also slight changes to weapon damage.

We've received a lot of feedback from the community about updating vehciles and we are more than excited to be able to bring this update to the game. Which vehicle will you be upgrading? Let us know in the official Champions Online Forums.
What's New?
Preview: FoxbatCon Event By DwightMC Tue 18 Mar 2014

Coming soon, Millennium City will be hosting FoxbatCon, the premier convention in honor of the most handsome, dashing, daring and intelligent ne'er-do-well: Foxbat!

Come down to Renaissance Center and meet the stars of the 1960s Foxbat TV show. Special Guest of Honor: Foxbat himself! (If anyone knows the current whereabouts of Foxbat, please contact the information desk immediately.)

Renaissance Center is filled with Foxbat fans, cosplayers, and of course the stars of the hit TV series: Matt Hunt, Jeff Hill and Foxbat himself.

FoxbatCon begins soon, heroes. During the event, you'll have a chance to pick up FoxbatCon Swag Bags from villains, all containing great prizes. Plus, complete missions throughout the event to earn Foxbat Cred, event currency that can be traded for special items from the convention merchant.

Over the course of the event, we'll be introducing new missions and a new Foxbat-themed lockbox. Be sure to check back with us soon for more information about the upcoming FoxbatCon Event!
What's New?
The Rampage Revamp Now Live was added as part of the 2014, February 20 update.

Champions, we're excited to announce that the Rampage Revamp is now live! Login now and experience the brand new Fire and Ice Rampage, earn brand-new rewards, unlock new achievements and experience the Rampages with the new Private Queues. The new Rampage is for heroes level 35+

There will be four Rampages in total: UNTIL Sky Command, Gravitar, the Lemurian Invasion, and the brand new Fire and Ice Rampage. These Rampages will rotate every three days through the fifth Alert slot. Each Rampage is for ten players.

Want to earn the ultimate Justice Gear? You'll need to face all four rampages where each will have a chance to drop a different token type. Collect multiple of each type, add some Drifter Salvage, and you'll be able to exchange it for Justice Gear. Justice Gear is a step up from the old Legion gear, with four slots for stat-boosting MODs, plus very good stats baked in.

If you're a costume fiend, there's plenty to scavenge from the Rampages, including tons of military and first-responder costume pieces. You'll be able to get items like construction vests, UNTIL accessories and more!

Plus, experience the challenging new Fire and Ice Rampage, and battle against the first couple of crime: Kenina Blaze and Frosticus! You'll need to coordinate with your team to survive traps, escape prisons, and dodge their all-out area attacks. Make sure you defeat them both at the same time, though -- you might not like what happens if you don't. Head here to read more about the new rampage and the powers these villains possess.

The new Private Queues mean you won't have to worry about random players joining the instance, so you can coordinate perfectly with your team to face the Rampages. Queue up with a full ten-man group and take on each of the rampages.

New costumes, new challenges and new perks await you! Login after maintenance and enjoy the Rampage Revamp!
What's New?
The Basement Hideout category was added as part of the 2011, July 7 update.
Every Hero needs a place to get away from it all and now they can.
Hideouts are highly themed personal maps that have customization options and offer basic convenience. The best part about them is that they are easy to get to, it's a snap to host parties, and the more you have the more you can make them look just right for your Hero.
| | |
| --- | --- |
| Offical News | Patch Notes |
| --- | --- |
Helping Out
To write a new article, just enter the article title in the box below.

<createbox> width=30 break=no buttonlabel=Create new article </createbox>
Not sure where to start?
Adding content
Every wiki has two list of articles that need help called "Stubs" and "Wanted Articles". Don't be shy, get in there.
Uploading images is another really easy way to help out - see the Special:Upload page!
For more information on the structure of this wiki and how to edit items - see the Help:General page.
Newly... edited articles, created articles, uploaded images
Champions Headlines
Free Alienware Promo
---
2014, February 19
Originally submitted 2011 September 7 the link has been updated to take you to the correct page. When I started this there were 8800keys. We have managed to get all of these keys into the hands of the players. I want to thank Alienware for its continuous availability of these keys for this promotion. I want to thank the 8800 addtional players who were able to redeem these keys for the great items. I am keeping the link active as Alienware has many other giveaways which you may be interested in. Thank you all again for being a hero.
Come Grab Your Free Arc Gifts!
---
2014, February 21
The new Arc client is now live! We have made many changes based on your feedback and would like to know what you think. To show our gratitude for downloading Arc, we would like to offer you a host of free gifts! This is our way of saying thank you for everything, and to let you know that we are listening.
To get started, navigate below where you will find each game's specific redeem code and the items you will receive, along with a link to install Arc.
What is Arc?
Arc brings your favorite games, communities, and entertainment together onto one easy-to-use platform. Manage your worlds by seamlessly installing games all in one place, and connect with friends with Arc's built in messenger. The possibilities are endless, so get started today!
Once you install the ARC client Log into your Perfect World account through Arc. Once the code has been redeemed, go in-game and open the C-Store. Scroll to the Bonus tab and claim the items in the window. All the costumes and Hideouts will automatically be unlocked after you claim them. The box of titles will be added to your inventory. Simply open your inventory and use the box to obtain your titles.
Code 1: ( PtXM9Vn1 ) Code 2: ( uwAzrxZy )
•Costume sets: Halloween Webs, Redeemed Villain, and Hats and Heads
•Special title perks: (The/Dr/Sir/Lady/Lord)
•Hi-Tech Cave and Druidic Sanctum hideouts
Second Anniversary costume unlocks are here early!
---
2011, August 31
Open any saved anniversary gifts to unlock the new costumes immediately.
Champions Online: Free for All on Steam!
---
2011, June 14
Champions Online makes a triumphant return to Steam. The original achievements are available again and you can use your Steam Wallet to for C-Store purchases. Read all about it in the FAQ.
Aftershock is here!
---
2011, June 1
The inaugural issue of the first Comic Series - Aftershock - is now in Champions Online and available to all players for free!
Check out the new Heavy Weapons framework.
---
2011, April 21
See the brutally crushing force of Heavy Weapons, Champion Online's newly released super power along with the new weapons.